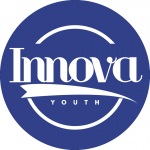 "I had a look around and it really felt like a family. Everyone was doing their own thing, communicating and talking, just a great place to be." -Lachlan.
"I like that it's another bunch of friends who will always be there, even if you only see them once or twice a week. They're still really good friends that you make, and they're just amazing."- Amy.
"I like that Innova Youth is a safe place to hang out with friends, and learn about God, and just get away from the hustle of life."- Liz.
These are some of the things that we were told by our young people when we asked them what it was about Innova Youth that they liked most. Between the games we play, the music we sing, the places we go and the things we learn about God, the core of Innova Youth to our young people are the friendships and sense of family that they encounter.
Each week we meet with the common goal of having fun, playing games and discussing issues facing teenagers today from a Biblical standpoint. Some of the Friday night activities include laser tag, bonfires, pool trips and even weekend-long camps!
Innova Youth runs from 7pm to 9.30pm on Friday nights during the school term and costs just $3 per session (with the exception of off-site nights, where additional fees might be charged to cover entry fees and travel). If you're in grades six to twelve, take this as a personal invitation to come on a Friday and get involved!
https://www.facebook.com/pg/innovayouth/photos/?tab=album&album_id=10155323531171296